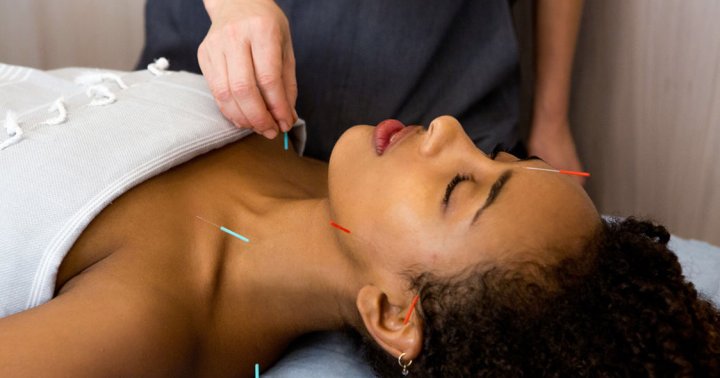 January 10, 2019 at 11:00PM
As a key pillar of traditional Chinese medicine, acupuncture has been around for thousands of years. But lately, we've seen a huge surge in interest in this healing modality. From chronic pain and infertility to insomnia, anxiety, and neck pain, people are discovering acupuncture—and recommending it to friends and family—left and right, all over the world.
Recently, I visited a new acupuncture studio in New York City called WTHN, and after experiencing its boutique fitness studio vibe and looking at their menu of treatment options—including the "Second Wind" for fatigue, "Trust Your Gut" for digestion, and a "Face Time" facial acupuncture treatment—I couldn't help but think: Is acupuncture officially mainstream?
Acupuncture is becoming more well-known by the minute.
Even a few years ago, acupuncture felt a little "out there." But now, it's practically commonplace. According to Paige Bourassa, MSTOM, L.Ac., RHN, a licensed acupuncturist and founder of Shen Medicine, more and more patients walk into her office already knowing a thing or two about acupuncture. "We used to see people come in for acupuncture as a last-ditch effort, when they were suffering from extreme pain. Now, we have people come in after breakups, to deal with work stress, to help with fertility, for hormonal imbalances, and just about anything else you can think of," she explained.
The number of acupuncturists in the U.S. has also ballooned, with a recent survey published in the Journal of Integrative Medicine showing that the number is now up to over 34,000—a 52.09% increase since 2004. The author of the study concluded that, "Acupuncture continues to be a quickly growing profession in the U.S." There are currently over 70 acupuncture schools scattered across the country (although the majority of them in are in California, Florida, and New York).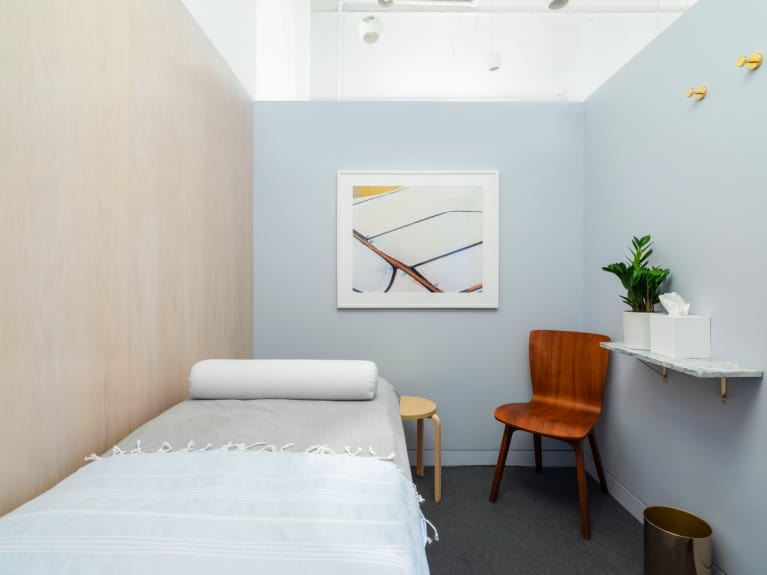 Celebs like Jennifer Aniston, Sandra Bullock, and Natalie Portman are all rumored fans of acupuncture, and Kim Kardashian even posted a selfie mid-facial acupuncture session. It's also, arguably, the perfect treatment for modern men and women with busy schedules and very stressful days. People praise acupuncture for its ability to treat headaches, stress, fatigue, insomnia (the list goes on and on). Shari Auth, DACM, LMT, and Michelle Larivee, the co-founders of WTHN, explained that "Acupuncture is the ultimate in wellness multitasking and can help you to stay well, be strong, and shine on every day. Acupuncture works by sending messages to the brain that alter brain chemistry in a variety of ways, depending on the needs of the client. For example, acupuncture increases the body's natural opiates, endorphins, and enkephalins to reduce pain, and it can also reduce cortisol and increase serotonin to reduce stress. Acupuncture also increases circulation to relax tight muscles and is a natural anti-inflammatory to help alleviate inflammatory-related conditions."
Why acupuncture is mainstream, including new research and increasing popularity. Continue Reading…
Author Gretchen Lidicker | Life by Daily Burn
Selected by iversue