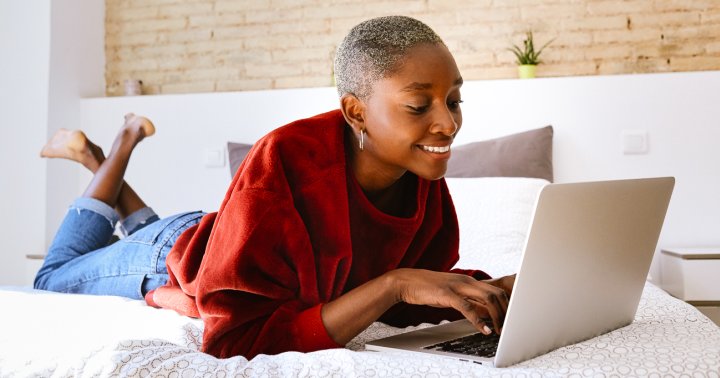 March 21, 2020 at 08:20PM
We've talked about the importance of friendships in this time of social distancing, but what about our other relationships? While some couples have chosen to isolate together, those who haven't (or those in new relationships) may be wondering how to keep, well, dating, without the usual options available.
Whether your in a time tested long distance couple who's visit plans have been cancelled or a newly budding romance that's been nipped by in that bud by this new temporary normal, these date ideas can bring you connection and the social energy you're craving while still doing the right thing and staying apart.
1. Watch a show or movie together.
We're so lucky to live in the age of on-demand streaming, and with so (so) many amazing films and bingeable shows available you and your S.O. should be able to find something you'll agree on. The Google Chrome extension Netflix Party makes streaming together even easier by syncing playback and giving you the option to add an in window chat.
Dial up your favorite video chat and hit the kitchen. This one gets interesting, since you have to make it work with what ingredients you both have available. Thankfully, we've been chatting with R.D.'s about all the ways to use your canned foods (like chickpeas). Not going to be able to make the same thing? That's okay: try sending each other your favorite comfort food recipe to share the love.
3. Have a digital game night.
Remember when everyone you know what playing Words With Friends? Bring that back, but also check out some other games you can play together online (including Scrabble, if you're really into word games). Apps like House Party and others have built in functions to let you play games together too
4. Watch an opera, or go to a museum, or visit a National Park together.
As they've been forced to close their doors to actual guests, many of the globes foremost cultural institutions are turning to live streams and video tours. The Metropolitan Opera is offering "Nightly Met Opera Streams" and Google Arts & Culture offers views into the walls (and from the tops) of many famous museums and landmarks (and yes, that includes National Parks)
5. Pick a book to read together (or a podcast to listen to).
Happen to both have a copy of one of this year's best-sellers laying around unread? There's never been a better time to get lost in a story, so why not do it together? If you don't have the same reads available, but do have a library card, you can get access to tons of audiobooks and e-books via programs like Libby. If you're not into reading, you can also swap in a new favorite podcast to both dive into. It'll at least give you something to talk about other than COVID-19.
6. Have your morning coffee together.
When all else fails, go back to the old standby: a coffee date. While we're all trying to maintain our routines, scheduling an A.M. coffee date (via your favorite video platform) gives you a concrete reason to be up and active before your remote work day begins, and can help you start the day on a note other than scrolling your social feeds.
Author Eliza Sullivan | Life by Daily Burn
Selected by CWC