We put the best handheld IPL devices to the test to find out which ones are the most effective
If you're tired of dealing with unwanted body and leg hair, you're probably intrigued by the idea of little at-home devices that promise to get rid of your hair from the comfort of your own bathroom. Are they too good to be true? One of the most advanced and high-tech methods is IPL (which stands for "intense pulsed light") and these handheld machines claim to permanently reduce fuzz by stunting the hair cycle and preventing regrowth.
The devices themselves aren't cheap – with the most affordable one our list still carrying a price tag over £200 – but buying one should mean you don't have to make regular trips to the salon anymore, saving you a fortune in the long run. We put a range of devices to the test to find out how well they work.
What is an IPL device?
IPL is a broad-spectrum light that's scattered across the skin to help with permanent hair reduction. It directs light at the melanin (the pigment that gives the skin/hair its colour) in the hair follicle, damaging the root and helping to break the cycle of regrowth. Don't expect instant results, but with regular use, it can help prevent unwanted hair from reaching the skin surface. Energy, frequency, skin and hair colour are all determining factors in the efficacy of the treatment.
Most IPL devices are suitable for the body and face. They work by gliding or stamping the device over skin, emitting light as they go. Gliding is convenient for larger surface areas of the body (such as your legs). Stamping (pressing onto the area) is better for smaller areas where you need to be more precise.
IPL devices can be costly, often setting you back at least £200 and sometimes as much as £500, but if you're always making trips to the salon and are after a more permanent solution, then IPL might be a more cost-effective method.
What's the difference between IPL and laser hair removal?
Don't confuse IPL with laser hair removal. Laser treatments use a different light source and target a more concentrated area. The laser method is often more powerful. You can use IPL devices at home, but if you want laser hair removal you'll need to have it performed by a trained professional.
Is IPL hair removal safe?
IPL is considered safe to use, providing the device is from a reliable, trusted brand and instructions are followed as advised. Occasionally, some people may experience side effects such as redness, discomfort, and very rarely blisters or burns. If any irritation occurs, please consult a medical professional.
How to use IPL devices
For IPL to work effectively, some hair is required to allow the light to target it, therefore it's best not to wax or epilate ahead of your session. Shaving beforehand is advised as the light can target hair directly in the follicle. If IPL is used on longer hair, it runs the risk of burning the skin. Some models are suitable for use in different areas, such as the upper lip (all the devices in this guide can be used on both body and facial hair).
For best results, regular IPL sessions are required. Each brand advises how often to use their IPL device, and when you can expect to see results. Typically, most brands suggest a 12-week programme followed by top-up sessions as and when needed.
Does IPL hair removal hurt?
The level of discomfort varies from person to person, however, the sensation can feel quite tingly and hot (it's sometimes likened to being flicked with a hot elastic band). The process is quite quick, though, so the pain doesn't last long. Most devices have a range of heat settings to make it more comfortable, especially in areas that are more sensitive. It's important to remember that a lower intensity is also less effective, so keeping it at this setting would require you to use IPL for longer.
Who can use an IPL device?
IPL devices aren't suitable for everyone, as they're only able to identify and target hair pigment that is a contrasting shade to the skin.
Naturally, light blonde, red, white and grey hairs contain little pigment, so IPL typically isn't effective on people with these hair shades, whatever their skin colour. They also don't work on dark skin tones. Typically, those with pale to medium skin and dark hair are the best candidates for IPL.
IPL devices typically aren't suitable for pregnant women, those with certain skin/hair conditions and those undergoing particular treatments. They also don't work on tattoos or permanent make-up – check the fine print before you buy.
How many IPL treatments does it take to see results?
Typically, IPL devices should be used regularly for four to 12 weeks, to make sure all visible hair has been treated. Hair should start to appear finer and grow back slower, or not at all. Top-up sessions can be done where there is any regrowth. Results vary depending on the use of the device and skin/hair types.
What to consider when buying an IPL device
The number of flashes: This is the number of times the device can emit a flash. Most have a minimum of 100,000 and once the lamp runs out of flashes, a replacement lamp will be needed. You can't get replacement lamps for all devices, while some offer unlimited flashes.
The number of treatment heads: If you plan to use the device on smaller areas, a head that comes with a smaller treatment window is more efficient.
The level of intensities: This impacts how often you'll need to use the device and whether you can adapt the intensity to suit more sensitive areas.
The number of modes: Most devices offer glide and stamp modes, with some also offering a "gentle" mode.
Speed: The shorter the time between flashes, the quicker the treatment process.
Automatic skin tone sensor: Some devices detect the optimum intensity and safe settings for your skin tone.
Corded or cordless: Some devices can be used cordless, for ease of use and transportation.
Which is the best IPL hair removal machine?
Best IPL hair removal device: Philips Lumea Prestige IPL BRI954/00
Runner-up IPL hair removal device: SmoothSkin Muse
Best compact IPL hair removal device: Silk'n Infinity 400,000

How we test IPL devices
The Good Housekeeping Institute recruited over 80 women across the UK to help us test out a range of IPL devices in their own homes. The length of the test was 12 weeks, so we could see if our testers experienced the results they were hoping for. The testers followed the recommended instructions, found out how effective the devices were at removing hair on the legs, bikini line, underarms and upper lip, when any regrowth appeared, how easy the devices were to control, how simple the process was, and how comfortable it felt when removing their hair.
1

Best IPL hair removal device
Lumea Prestige IPL Cordless Hair Removal Device
Philips amazon.co.uk
£475.00
Described as the brand's 'most effective IPL' within their range, this device claims to show results in as little as four treatments, with further sessions helping to maintain. So if you're after quick results, this is the device for you. When you click an attachment on, it switches to a tailored programme for the relevant body or face area. There are five settings and has a sensor to identify the most comfortable setting for your skin tone. You can also download a free app to create a tailored treatment schedule for each area, and get advice and tips. The device showed a significant reduction in hair growth for our testers, with 83% noticing a difference four weeks in. After using the product for the full 12 weeks, 87% said most hairs had stopped growing back and any stubborn hair grew back finer.
Key specifications:
Power: Mains
Cordless: Yes
Features: Five light intensities, two treatment modes (stamp and slide), Lumea app, skin sensor
What's in the box: Device, adapter, pouch, three attachment heads and instructions
Usage: Every two weeks for the first four sessions, then touch-up where needed
Flashes: >250,000
Philips Lumea Prestige IPL BRI954/00 Review (Score: 87/100)
ADVERTISEMENT
2
Runner-up IPL hair removal device
Muse IPL Hair Removal Device
SmoothSkin currentbody.com
£399.00
This device delivers 60 shots per minute and offers unlimited flashes, so in comparison to most others in this guide, you won't have to worry about it running out. It claims to cover the body and face in 20 minutes and also has a built-in UV filter and a gentle mode for more sensitive areas. Most of our testers saw a reduction to leg hair within four weeks of using the device, commenting that any hair that grew back was finer and softer. Between weeks 8-12, most of the testers said their skin felt smoother, noticing that less hair grew back in the underarm and bikini area too. They also found that they had fewer ingrown hairs. Although bulky, most testers found the device comfortable to hold and straightforward to use.
Key specifications:
Power: Mains
Cordless: Yes
Features: Three treatment modes (glide, stamp, gentle)
What's in the box: Device, mains cable, power supply, instructions and storage bag
Usage: Weekly for 12 weeks, then on a top-up basis
Flashes: Unlimited
SmoothSkin Muse Review (Score: 86/100)
3
Best compact IPL hair removal device
Infinity 400,000
Silk'n currentbody.com
US$150.00
This device claims to perform a full body treatment in less than 20 minutes, aiming to reduce hair growth and prevent stubble and ingrown hairs. With a built-in skin sensor, it checks skin compatibility to ensure it emits the correct light pulse. You can also connect it to a specific app via Bluetooth, offering a calendar with a treatment plan and a light pulse counter. Our panel noticed a reduction in hair growth and thickness after four weeks, with 79% stating that there was a significant difference when using the product for 12 weeks as recommended. The panel appreciated its simple design and precise head, allowing access in hard-to-reach areas. If you're stuck for storage space, this compact device is a great option.
Key specifications:
Power: Mains
Cordless: No
Features: Five intensities, skin tone sensor, compatible treatment plan on the mobile app
What's in the box: Power cord, device, UK, EU and US power plugs and instructions
Usage: Initially every two weeks, after two months every four weeks, and after this treat as needed
Flashes: 400,000
Silk'n Infinity 400,000 Review (Score: 83/100)
Braun amazon.co.uk
£331.37
With 10 intensity levels and a skin tone sensor, this IPL device claims to be the safest, fastest and most effective IPL in Braun's range. The device offers 30% more flashes than its previous model, making it a long-lasting choice. It aims to treat both legs in less than five minutes at the lowest intensity level. After 12 weeks of using the device, 90% of testers were satisfied with the results. Most saw a decrease in hair regrowth after just four to eight weeks and noticed that hair grew back finer. This device also comes with a complimentary razor.
Key specifications:
Power: Mains
Cordless: No
Features: Two treatment heads, 10 light intensities, two treatment modes (stamp and glide), skin tone sensor
What's in the box: Precision head, razor, device, instructions
Usage: Body hair requires one treatment a week (for four to 12 weeks) then whenever you need (every one to two months)
Flashes: 400,000 flashes
Braun IPL Silk-expert Pro PL512 Review (Score: 83/100)
5
Sensilight Pro IPL Hair Removal Device
Sensica currentbody.com
£379.00
This device claims to deliver pain-free, permanent hair removal on both the face and body. With six energy levels and skin tone detection, it gives the recommended energy level for your skin. The rechargeable device can reach up to 600 flashes between each charge and claims to cover the legs in just 15 minutes. After using this device for four weeks, testers saw a reduction in regrowth, noticing that hair became sparser. Between weeks eight to twelve, three-quarters saw a visible difference to hair and were satisfied with their results. Compared to most other models, it has an automatic glide feature for larger areas, reducing the need to hold down a button. Our panel enjoyed this feature as it helped reduce the overall process time.
Key specifications:
Power: Mains
Cordless: Yes
Features: Two treatment heads, six intensities, two treatment modes (pulse and glide), skin tone sensor
What's in the box: Device, treatment heads, charging cable, storage bag and instructions
Usage: Body hair requires treatment every two weeks for the first four weeks, then once every four weeks afterwards; for facial hair, use it every two weeks for the first five weeks then every four weeks; after seven weeks for body hair and eight for facial hair, top-up as and when needed
Flashes: Unlimited
Sensica Sensilight PRO Review (Score: 78/100)
Watch Next
Slow Cooker Lamb Tagine
Watch:
Slow Cooker Lamb Tagine
How to choose the right hair removal product
Panasonic ES-WH90
Homedics DuoQuartz
Braun IPL Silk-expert Pro PL512
Sensica Sensilight PRO
Silk'n Infinity 400,000
SmoothSkin Muse
Philips Lumea Prestige IPL BRI954/00
Silk'n Glide 50,000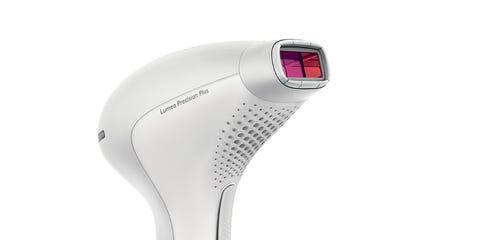 Philips Lumea Precision Plus