May 14, 2020 at 11:31PM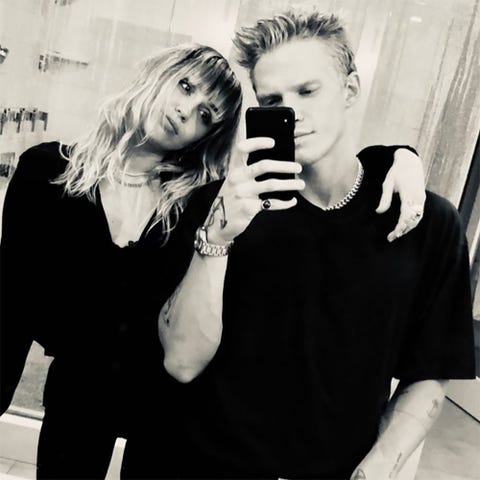 In just two months, Miley Cyrus ended her relationships with ex-husband Liam Hemsworth and ex-girlfriend Kaitlynn Carter, but already, she's fully embracing new love. The singer seemingly gave minute-by-minute coverage of her burgeoning romance with Cody Simpson in the beginning. Six months later, the couple is a bit more private about their relationship, but still sharing sweet moments on Instagram. Below, a breakdown of the developing love story.
2012: In a recently unearthed interview with Fuse, Simpson referred to Cyrus as "his childhood celebrity crush." He added, "I knew all the words to her songs, I'm not gonna lie. I'm not ashamed about it, at all. I was a big Miley Cyrus fan. I think she will be, forever, the most dateable Disney star."
This content is imported from YouTube. You may be able to find the same content in another format, or you may be able to find more information, at their web site.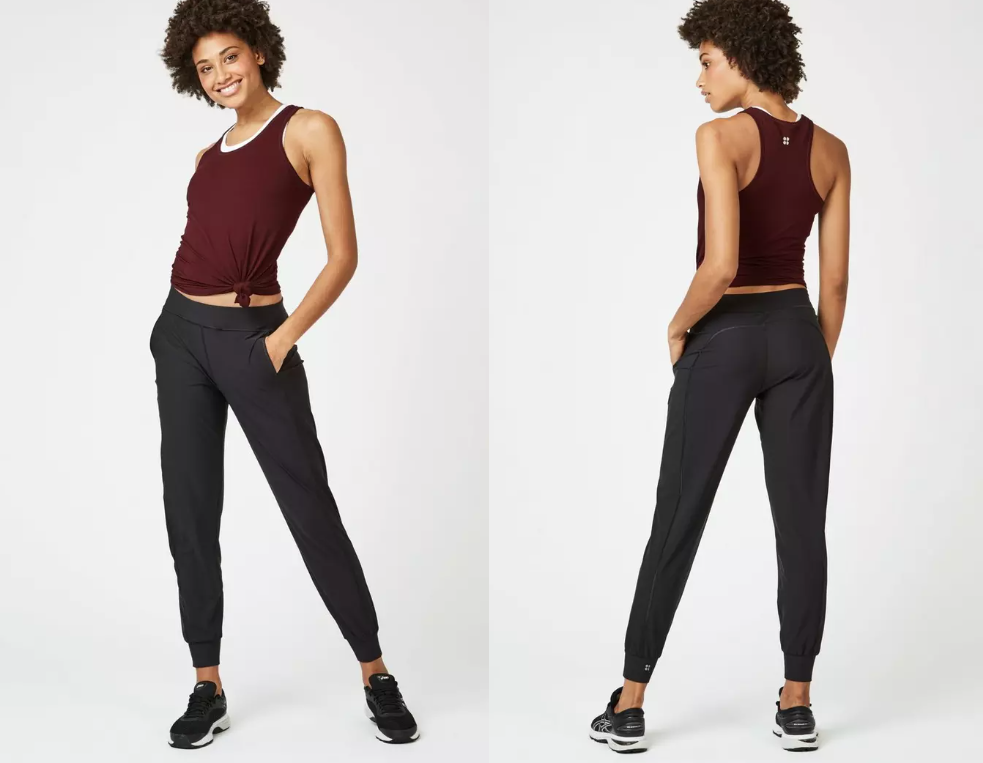 2015: In a December 2015 interview with GQ Australia, Simpson said, "Miley is one of my best friends, and she helps with some of that transitional stuff—trying to escape your childhood. She's super open-minded, and I'm working on becoming more like that."
At the time, the two musicians were close friends, nothing more. Simpson was dating model Gigi Hadid, and Cyrus was dating Patrick Schwarzenegger.

August 2019: On August 11, news of Cyrus's split from Hemsworth after six months of marriage and a decade together, broke. Theories about what led to the divorce ranged from busy schedules to infidelity, though Cyrus personally clarified that any cheating rumors were false. Cyrus' public romance with Kaitlynn Carter began the same day her rep announced her separation from Hemsworth. Sources told Page Six that Cyrus and Hemsworth had been separated secretly for months before they went public with the news.

September 2019: At the end of September, Cyrus ended her month-long relationship with Kaitlynn Carter. A source told ET, "Miley and Kaitlynn are no longer together romantically. They have been there for each other through tough times recently but decided it's best to be friends."
October 4, 2019: Less than two weeks after celebrating her singledom in a series of canyon shots on Instagram, E! reported that Cyrus and Simpson shared a "quick kiss" while grabbing sushi at an LA grocery store. TMZ also posted video of the pair making out at Backyard Bowls eatery.
Cyrus seemingly addressed the photos on her Instagram Stories that day, writing that Simpson checked off all of her boxes. That is: being 22, "Australian (my type)," and having abs.
Simpson shared a black-and-white video of himself singing and playing guitar, captioned, "It's a golden thing she's got." Cyrus commented, "?" followed by "Drop. That. Shit. ????
A source told ET of the pair, "Miley and Cody have been friends for years. They have hooked up in the past. Cody and Miley have no plans to start dating each other exclusively. They both just want to have fun and are open and honest with each other about that."
October 5, 2019: Shortly after, Cyrus shared a note defending her choice to date Simpson so quickly after she ended two other relationships:
"I am grown now and make choices as an adult knowing the truth/details/reality," she wrote. "People only 'know' what they see on the internet."
She added, "Men (especially successful ones) are RARELY slut-shamed. They move on from one beautiful young woman to the next MOST times without consequence. They are usually referenced as 'legends,' 'heart throbs,' 'G,' Ladies Man' etc….. where women are called sluts/whores! I am trying to just THRIVE/survive in a 'mans' world…. If we can't beat em, join em! If our president can 'grab em by the p***y…' Can't I just have a kiss and açaí bowl?!?!"
"pre swim breakfast courtesy of baby," Simpson captioned a photo of himself kissing Cyrus's head the same day.
October 6, 2019: A day later, Simpson posted a pair of shirtless selfies with the caption "I got nothin." Cyrus commented, "???????? Cutest" then "Ps I invented this caption ?." As for Carter's thoughts on her ex's new relationship, TMZ reported that she was "not bothered" by their romance but was more generally worried about Cyrus' well-being. The outlet wrote that Carter had "expressed concern" over Cyrus' actions to close friends.
October 8, 2019: More than 8,000 people liked Justin Bieber's comment under a different shirtless photo of Simpson that read, "Double date?" Simpson wrote back, "text me."
October 9, 2019: Cyrus documented her hospitalization for tonsillitis—and Simpson played a large role. As seen on her Instagram Stories, she referred to him as her boyfriend for the first time while he serenaded her from the hospital bed. He also showed up with roses and his guitar.
This content is imported from Twitter. You may be able to find the same content in another format, or you may be able to find more information, at their web site.
October 12, 2019: "Boo thang ?" Cyrus wrote under a photo from Simpson's Tiffany's & Co. collaboration. When someone commented, "Does Miley share?" she responded simply with a thumbs down emoji.
At an event for his men's collection launch with the brand, Simpson was asked if Cyrus was the one. "Oh, I don't know," he told Us Weekly. "It's too early to say."
People also spoke to Simpson about his relationship with Cyrus. "I'm very happy. We are very, very happy," he said. "She's creative. She's very passionate about what she does, and I'm very similar in that sense. That's why we get along so well. We just have a ball, yeah, and that's the most important part of a relationship, you know?"
As for how the romance began, Simpson said: "The reason why it hasn't been a really crazy sudden thing is just because we've been friends for so long," he said, adding that they "found each other again in a space where we're both not partying, working real hard, and it just keeps things healthy and it's good. Any girlfriends I've had in the past has always been immediate romance and so it's a different experience having been friends with somebody before and it developing naturally into something more."
Hemsworth went on a date in New York City's West Village around the same time with actress Maddison Brown. A source told Us Weekly that week that Hemsworth has no grudge against Cyrus for dating again publicly so quickly after their split. "He wants what's best for her—even if it's not him," that source said.
October 14, 2019: Cyrus and Simpson soon opted to post a terrifying PDA video to Instagram. In it, the couple kisses while masked behind the app's The Joker filter.
This content is imported from Twitter. You may be able to find the same content in another format, or you may be able to find more information, at their web site.
Cyrus also shared photos of her and Simpson indulging in a meal ("soup is an aphrodisiac") and posing for a mirror selfie.
October 16, 2019: Simpson hinted on his Instagram Stories that he would be moving in with Cyrus. "Move in day," he captioned the selfie. Reports also claimed that Cyrus's ex, Kaitlynn Carter had moved in shortly before their breakup.
A day earlier, he seemingly shared a photo of Cyrus and teased that new music would be released on Friday. Cyrus commented, "emotional."
People published a statement from Simpson's manager, who explained that the couple's romance wasn't moving as fast as many believed. "It is early, but their friendship is long-standing and deeper than people realize," Simpson's manager Matt Zeidman told the outlet in a statement. "Though they originally met during their own wilder phases, they're both sober now and are focused on health, work and spending time together. Seems pretty ideal to me."
October 18, 2019: Less than a month into dating, Simpson released a song about Cyrus. Titled "Golden Thing," the song's cover art is a photo of Cyrus, and the lyrics hint at their meaningful connection: "I sing softly to her / In the last daylight / And the chorus of birds / In the heights of night / And if we could be heard / For whatever it's worth / The rulers in the sky / They'd cry."
This content is imported from YouTube. You may be able to find the same content in another format, or you may be able to find more information, at their web site.
October 19, 2019: The pair made their TikTok debut together the following day, hilariously paying homage to Kylie Jenner's viral "Rise and Shine" moment.
This content is imported from TikTok. You may be able to find the same content in another format, or you may be able to find more information, at their web site.
October 22, 2019: A source updated E! on how Hemsworth is handling Cyrus's new relationship. He "doesn't have a reaction or plan on engaging with Miley [at this time]," a source told the outlet. "[He] has moved on." As for whether Hemsworth keeps tabs on his soon-to-be ex, the insider said, he is not "seeking out updates on her and what she's gotten up to. He doesn't want to hear about it and usually doesn't."

Those comments coincidentally came the same day Simpson spoke about his relationship with Cyrus on the Kyle & Jackie O Show. "I'm very, very, very romantic," Simpson told the hosts. "I don't think she…she'd talked about how she hadn't had that kind of an experience in a relationship before." He also claimed that they had been attracted to each other "ever since we first met, even when I was like, 18, and it was just not the right time."
He added, "We've just been close ever since we met and—it's weird, it's like the first time I've been with someone where it wasn't necessarily an immediate romance. It was just friendship and fun and…it just developed over like five years."
And as for why the pair went public so quickly with their romance? "We spoke about it like first week, like what we're going to get blown up right, and we can go about it one of two ways: Getting busted all the time or just like not allowing anyone to bust us because we're busting ourselves anyway," Simpson explained.
October 28, 2019: The couple didn't miss another opportunity to show off PDA. They were spotted kissing while out with friends at Universal Studios' Halloween Horror Nights by TMZ.
Then the couple choreographed a short dance as Cyrus welcomed Simpson to TikTok:
This content is imported from TikTok. You may be able to find the same content in another format, or you may be able to find more information, at their web site.
October 31, 2019: Simpson and Cyrus dressed up for their first Halloween together as retro rocker Billy Idol and his former flame, Perri Lister.
November 4, 2019: Cyrus and Simpson's next major date night came courtesy of Cyrus's brother Braison's Nashville wedding. "My baby brother got married on the most stunning sunny Tennessee day standing on top of the same hills where we grew up playin…. I love you Braison. So happy for you & Stella ❤️," Cyrus wrote on her Instagram Stories.
November 11, 2019: Despite Simpson's recent plus-one status, a RadarOnline report alleged that he and Cyrus were taking a break. But instead of addressing the report directly, Simpson put rumors to rest by sharing a photo of his phone's lock screen on his Instagram Stories:
As if that photo wasn't proof enough, sources told E! the pair was doing just fine. "Miley and Cody saw each other last week when he visited her in Tennessee. They are fine and are still dating," a source told the outlet. "Miley has been resting from her vocal surgery but has been in touch and seen Cody recently."
A second source said that the performer's busy schedules can keep them apart from each other, but they always come back to one another. "She has a busy schedule and a lot of work commitments that have kept them apart," the source said. "But when they are together there's no doubt they are crazy about each other."
November 23, 2019: For Cyrus's 27th birthday, Simpson shared a video of the pair laughing in front of a mirror. "Happy birthday baby. Thanks for being you," he captioned the black-and-white footage. Both Cyrus and Simpson shared updates from her "silent birthday" while she recovered from surgery on their IG Stories.
November 30, 2019: The couple spent their first Thanksgiving together, with Miley's sister Noah capturing Simpson's presence at the family table. "extremely thankful for everyone at the table. ??? (a very sober thanksgiving staying hydrated ?)," Noah captioned the post.
December 1, 2019: On December 1, a source told E! that the pair's first two months together were a success. "Cody came out to Nashville for Miley's birthday and stayed for Thanksgiving," a source told the outlet. "Miley's family loves Cody and was happy to have him stay. They all celebrated the holiday together at Miley's family house. Everyone gets along very well and Miley's siblings have welcomed Cody in. Their relationship is fun and easy. He's one of the crew."
December 17, 2019: TMZ reported that the romantic partners could soon be going into business together. The outlet noted that Cyrus filed paperwork to trademark the band name Bandit and Bardot. At the time, the Instagram with that moniker followed only Cyrus and Simpson, although that's no longer the case. According to TMZ, Cyrus' company filed paperwork for a trademark that will cover "entertainment services, including live music performances by a band and live performances by a professional singer, musician and entertainer," along with "a website focused on live concerts, plus the production of sound recordings on all types of mediums—CDs, DVDs, downloads, ring tones and more."
It wouldn't be the first time either party hinted at working together. At the beginning of the month, Simpson told E! that they were open to collaborating. "Yeah definitely. We're looking at it," he said. "We are getting all the songs down [on my album] and then seeing who would make sense for what. It's going to be cool. It's going to be pretty much a rock album. A lot of guitar."
December 25, 2019: On Christmas Day, Simpson shared a short video clip of the couple smiling and sipping tea to Instagram.
February 2, 2020: The couple's relationship remained relatively quiet at the start of the year, save for a haircut update. "Superbowl supercuts," Simpson captioned photos of Cyrus cutting his hair while wearing lingerie.
March 3, 2020: Although Simpson and Cyrus aren't as outwardly affectionate on social media as they used to be, they're still together. As they crossed the five-month mark of dating, the couple celebrated with matching tattoos. Tattoo artist Nico Bassill shared a shot of Simpson and Cyrus posing with similar ink. "'Some mornings it's like the sun rises only for her,' Prince Neptune." Bassill captioned the post, referencing Simpson's book title Prince Neptune: Poetry and Prose and author name. "Thanks again @codysimpson and @mileycyrus."
March 17, 2020: Then they embarked on quarantine side-by-side. Cyrus shared a clip from her former Disney Channel show, Hannah Montana, in which her character cleans while wearing a face mask. "Day 2 Quarantine. This is the REAL ME. RIGHT NOW. ??," she captioned the video. "She isn't lying," Simpson replied to the video, as captured by the Comments by Celebs Instagram.
March 27, 2020: The couple further confirmed they were isolating together when Simpson posted a video on TikTok captioned, "Are you sick of quarantine yet?" In it, Cyrus and Simpson danced in front of a mirror together.
This content is imported from TikTok. You may be able to find the same content in another format, or you may be able to find more information, at their web site.
April 1, 2020: April Fool's Day brought the six-month anniversary of Simpson and Cyrus's love. He commemorated the day on his Instagram Story, writing, "6 months with you is worth a lifetime with anyone else. I love you."
The next day, Simpson appeared on Cyrus's Instagram Live show Bright Minded to recite a bit of his poetry inspired by her. Reading from his book Prince Neptune, he said, "In the ancient night, she flies once more back to her home in the stars. I try to chase her there but fall short because I cannot breathe up that high in the radiant heavens where she lingers. I can only admire her from below, humble, starry-eyed poet with the desire for that which is most beautiful. And she is most beautiful. All other sleep in winter forests, but she is the one who swims in the sun and doesn't burn up."
"BAAAABE," Cyrus said when finished. "I'm freaked! I'm the most beautiful?"
"You're the most beautiful, babe," he replied. After chatting for a bit more and exchanging I-love-you's, Cyrus said: "He's the only one who's hung up on me first. This is why I'm into this guy. You know? That's what I need."
This content is imported from Twitter. You may be able to find the same content in another format, or you may be able to find more information, at their web site.
April 20, 2020: Simpson provided a (slightly) less poetic update on their relationship to the Sydney Morning Herald. "Being with Miley is a wonderful thing in my life," he told the outlet. "She is creative and inspiring, fiercely independent and encourages me to be my own person, too. We are both creative individuals who support one another with our work. Miley also inspires my art. There's some romance in the poems I have written and yeah, they might be about her. It's inevitable that what happens in my private life comes out in my work."
But however well things seemed to be going for the pair, Simpson said he had no plans to propose. "I believe in marriage but haven't thought too much about that," the 22-year-old said. "I am far too young to consider it, to be honest. I just continue to surround myself with positive women who inspire me and teach me new things every day."
This content is created and maintained by a third party, and imported onto this page to help users provide their email addresses. You may be able to find more information about this and similar content at piano.io
Read more on ELLE
Author | Elle
Selected by CWC