June 17, 2020 at 01:20AM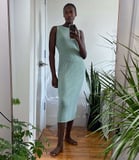 Your new sundress should be breezy. It should be unique to your signature style, but not without a trace of the season's latest trends. It should make you feel happy, carefree, and confident, because this little number's about to be your go-to all summer long.
Whether you prefer a long, flowing maxi that you'll rock with lace-up sandals or a tailored, slightly modest design, there's something here for you. At least there better be, since we rounded up 100 summer dresses, all ringing in under $100. That sound good to you? Ready, set, shop!
More Celeb News
Author Macy Cate Williams | Popsugar
Selected by CWC