May 05, 2021 at 06:30PM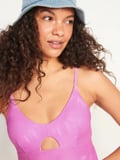 Is it just us, or have one-pieces really been giving bikinis a run for their money this season? Between cutout styles that show just enough skin and colorful options that will stand out in the sand, Old Navy really brought its swimsuit A game for 2021 . . . and after last year, we're ready for whatever fun this summer may bring.
Because we're already counting down the days, we picked out 17 bathing suits, from classic black choices to wear year after year to reversible options for two times the swimsuit for one price. You'll definitely want to check these out before you plan a backyard afternoon in the sun or trip to the beach, so see the exact ones that made us start summer dreamin' ahead.
Related: Which Swimsuits Last the Longest? 3 Experts Sound Off
More Celeb News
Author Morgan Ashley Parker | Popsugar
Selected by CWC