May 12, 2021 at 05:05PM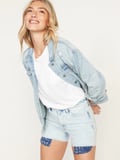 While it's definitely possible to wear denim shorts year-round, there's just something about this item that makes it a summer mainstay year after year. Maybe the fact that it's too hot for your favorite full-length jeans this season, or perhaps it's an excuse to show off your new sandals?
Either way, we've got denim shorts on the brain and have been on a quest to find our next pair. Since we're all in this together, we decided to share the ones we love most at Old Navy and made sure to pick options from lengthy Bermudas to short-shorts in a range of colors and patterns to go beyond the blue. If you're ready to embrace your good jeans and flaunt your personal style, check out the pieces that let you do it ahead.
Related: The Ultimate Guide to Denim Shorts by Body Type
More Celeb News
Author Morgan Ashley Parker | Popsugar
Selected by CWC