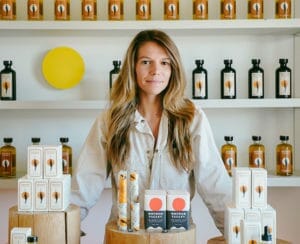 May 14, 2021 at 06:00AM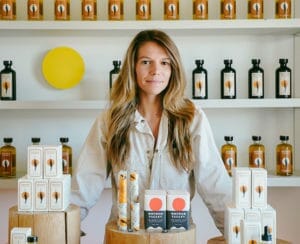 Alison Carroll and her husband are Wonder Valley, a line of impossible-to-resist olive oil-based products for cooking, beauty and beyond. We were lucky enough to meet Alison and get a full-on olive oil education before she moved out of L.A. to her dreamy Joshua Tree haunt. There she launched a line of culinary and beauty oils that in-the-know foodies and clean beauty devotees adore.
We asked Alison to talk to us about desert life, all the oils, and the summer we've all been waiting for…
Name: Alison Carroll of Wonder Valley (and Al's Big Deal, my jumpsuit line!)
Locale: We live in Joshua Tree, California – 6 years this month! But our Oil Shop is in Marfa, Texas.
The best of Joshua Tree living: The space — both physical and mental — of living in a peaceful, rural expansive place like this. For me, being in the desert has been a tremendous catalyst for creativity. I have the room, both spatially and financially, to take things slow and grow the business organically. We have a lot of room and time for hobbies like wood-fired cooking, building a bathhouse, hiking, getting a dirt bike, and discovering that I really like gardening and bird-watching.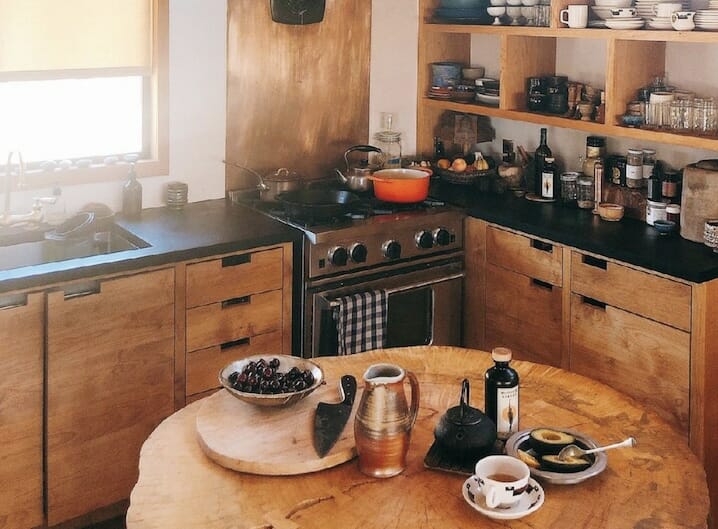 The toughest part of Joshua Tree: The worst, for me, is the heat in the summer. It slows me down and dries me out. But the evenings are idyllic, when the sun sets over the ridge and the air just feels like bathwater. I tend to get homesick for the East Coast when summer comes around, for swimming in the Atlantic Ocean — so we leave! And head to our other home in Maine for the hotter months.
how would you define your taste? I prefer not to define it; I like that it's ever-changing and open to evolving as I grow and my perspective shifts. But in a word: intuitive.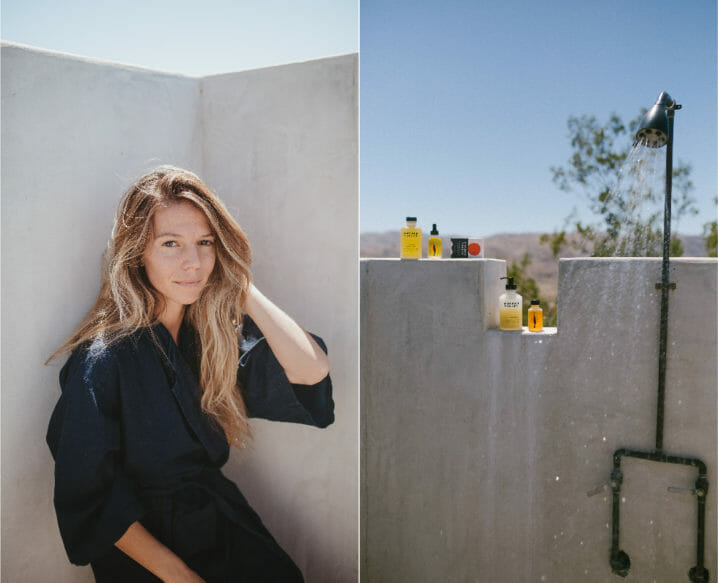 Desert beauty routine (everything is tougher out there!): Mornings I go to town with lymphatic movement; dry brushing and gua sha followed by a cleansing routine.
Once a week I will mix our dry exfoliant (a mix of fine botanical powders of olive stone, bamboo, rice, lotus and green tea powders) with our magic Oil Cleanser and massage onto dry skin. I like that this is a really customizable exfoliation; more powder and more pressure for a deeper cleansing. During the summer months, I do feel like its beneficial for me to do a bit more sloughing off dead skin cells. I follow that with a few drops of our wonder serum — which has the most velvety texture and instant plumping effect. I feel more beautiful and hydrated if I do just that one step.
I follow up with some sunscreen on my face or a big hat to protect from sun. That's about it for me other that some mascara — I love Kjaer Weiss for this and for some light eye shadow.
Neck to toes, I use Hinoki Body oil layered with some homemade essential oil fragrances I make. I gently comb my hair and use a little hair oil at the ends since the combination of hard water and dry winds really causes my hair to get dried and tangly more easily.
In the evenings, I like to take a soak in the tub or hit our outdoor shower and take in the views. I need that time to transition from work brain to relaxing since I've been working from home most of my adult life. There's usually a lot of epsom salt, sometimes a splash of our Hinoki Body Oil for hydration and to make me feel like I'm at an Onsen. Our WV two deserts soap I love. And usually some conditioning mask for my hair once a week to keep that in check.
How do you handle hydration – any great hacks? First thing in the morning, it's essential to chug a liter of water. I drink from the same glass bottle so I have a sense of how much I've consumed, I'm happy to drink 3 or 4 of those a day. But, if I start my day without this step, I usually get side-tracked and forget.
Are you finally traveling this summer or laying low? We are currently packing up the truck for our annual cross-country drive, just me, Jay, and our dog, lefty. We will be working on our other home, a small wood-shingled island home in Maine and the plan is to swim, grow some food, go fishing and work from afar for Wonder Valley.
Ultimate travel dream trip this year: The Faroe Islands! I've been dying to go. Something new, and quiet, and very, very green.
Travel beauty tip: For a summer road trip, I like to keep a sprayer filled with rosewater in our cooler and spritz to refresh and wake up throughout the day. I do find just a bottle of olive oil to be incredible utilitarian on a trip: to cook, to mix with coarse sugar for a body scrub, on the ends of my hair as a hair mask…
Why olive oil for the skin – there are SO many oils! Let's talk about the benefits… So many! There's a reason that it's been a beloved beauty treatment for thousands of years and is pervasive in so many different cultures.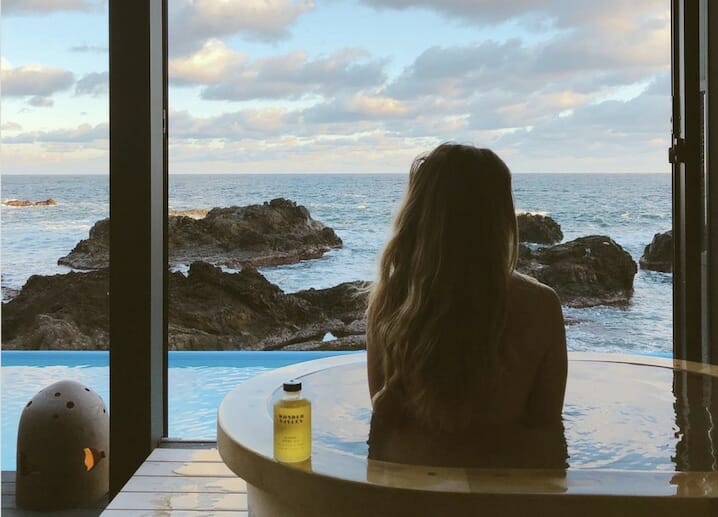 Antioxidant-Rich: high in polyphenol content (we harvest our fruit less-ripe or greener, which yields an oil higher in polyphenols). As apart of your diet, it will combat and neutralize the effects of free-radicals formed by pollution, toxic, UV rays, plastics, which while this is an internal process its repairing effects show up holistically in the skin.
Squalenes: major skin-strengtheners.
Photosterols: Activates microcirculation and promotes production of collagen, overall improves the tone and quality of skin
Vit E: Inflammation reducing, repairs sun damage, and slows wrinkle formation
Oleic Acid: major and lasting hydration
Palmitic Acid: A powerful emollient to hydrate and soothe, fills the gaps between dead skin cells for a plumping effect.
Above all, we are growing and pressing a key ingredient in our skincare so there's the preservation of the vitality of this ingredient. It's certified extra virgin grade and we are completely transparent about the harvest date, always using the current year's harvest in our skincare line and making small batches each quarter to focus on the freshness and integrity of our plant-based ingredients.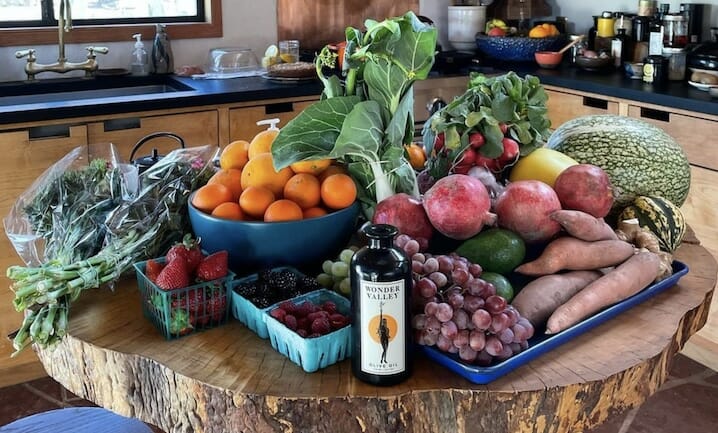 What's been your favorite part of building the Wonder Valley brand? One of my strengths is being a natural problem-solver — I can be kind of tenacious when presented with a challenge. With Wonder Valley, I love the personal growth I've experienced in the 7 years we've started this brand. I was well-versed in extra virgin olive oil given my background, but I've become well-versed in skincare formulations, fragrance direction, sustainable packaging solutions, as well as just the logistics of running a small team from the high desert. It's been a tremendous ride personally, so far. I feel like I get to put my tastes and values out into the world and hopefully make an impact.
3 inspirations lately: I can't get enough of Aran Goyoaga's Cannelle et Vanille cookbook. If you are gluten free like me, this is such a game changer. I bake the GF sourdough boules and make the fettuccini pasta by hand often. My book is so smudged and stained and has so many dogears — very well loved.
I love the Instagram page of Liziqi and her mesmerizing videos farming in the mountains of rural China.
The music of my friend, Juliana Barwick. It's on repeat as a tub time soundtrack and in our studio all day long.
The post Olive Oil + Outdoor Showers: In Joshua Tree with Alison Carroll of Wonder Valley appeared first on The Chalkboard.
Continue Reading…
Author The Chalkboard | ChalkBoardMag
Selected by CWC