June 02, 2021 at 07:30PM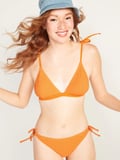 We're always turning to Old Navy for the affordable, comfortable basics we wear on repeat, and this season, that includes swimsuits. We're more than ready to be outside and get some sun, and we've been furiously shopping for new beachwear that makes us feel confident and ready to take on the ocean. The issue, though, is that lots of our favorite styles get pricey quickly, which is why we're crushing so hard on Old Navy.
From sexy string bikinis to more modest one-pieces and everything in between, these are the 11 swimsuits worth shopping right now. We're particularly loving the ruffled one-shoulder bikini and the cut-out yellow one-piece, but in our opinion, they're all winners. Keep on reading to shop our selects!
More Celeb News
Author India Yaffe | Popsugar
Selected by CWC