5 High Protein Meal Prep Recipes
May 10, 2022 at 11:39AM
Sharing 4 high protein meal prep recipes! Some new inspiration if you're looking to amp up your protein intake.
Hi friends! How are ya? I hope you're having a lovely morning. We're coming out the other side from dance competition straight into dance picture night at the studio (WHEW) and I'm looking forward to getting some work and studying for IHP done today. I'd love to hear about what you have going on!
Today, let's chat about protein!! I try to hit 4-5 palm-sized servings of protein per day (based on my personal goals, activity level, body composition, etc.) and protein can be hard to hit if I haven't done some advance planning and prepping. I've learned the hard way that it makes a huge difference to have protein in the fridge, ready to go. Each week, I've been taking time to chop veggies and make some protein staples, and it's been much easier to hit my daily goal.
For today's post, I'm sharing some staple protein recipes if you're looking for new inspiration! These are meat-based, but here are some ideas for my veggie and vegan friends: tempeh bacon, edamame, mung bean pasta, sprouted tofu scramble, and lentils in the instant pot.
(Had to use a stock photo because I have a hard time making meat look appetizing… and I think the asparagus is fake?? Taking votes)
5 High Protein Meal Prep Recipes
Whole Chicken in a Crockpot
Prep time: 15 min
Cook Time: 4-6 hours/ 8 hours
Ingredients:
1- 3.5-4.5lb whole chicken, giblets removed, patted dry
1 sweet onion, chopped
Salt, to taste
Pepper, to taste
Directions:
Place onion in the bottom of a 6 qt crock pot.  Add the chicken, breast side down. No liquid is needed as the chicken will make its own juices with the onion and grease from the fat from the chicken skin.  Season liberally with salt and pepper. Cook on low for 8 hours or high for 4-6 hours until internal temperature is 165 at the thickest part of the chicken. Cool completely, remove skin & bones and shred the chicken or cut whole pieces of thighs, breasts, and wings to store for meals throughout the week.
Meal ideas:
BAS: big a$$ salad with all the veggies and avocado plus shredded chicken and Primal Kitchen Ranch dressing (I order mine it from Thrive Market)
Chicken with air fryer broccoli & whipped potatoes
Chicken enchiladas
Chicken salad
Sheet Pan Creamy Dill Salmon
Prep time: 15 minutes
Cook time: 20 minutes
Ingredients:
1- 1.5 lbs whole salmon filet
3 Tbsp avocado oil mayo
1 Tsp fresh dill
1 Tbsp onion powder
1 Tsp grainy mustard
Pepper
Salt
4 lemon slices
Directions:
Preheat the oven to 400 degrees. Line a baking sheet with parchment paper. Place salmon skin side down. Combine the mayo and grainy mustard in a small bowl.  Spread evenly over the top of the salmon. Sprinkle with fresh dill, onion powder, salt and pepper.
Bake for 20 minutes or until the internal temperature reaches 140 degrees.
Meal ideas:
Add your favorite vegetables
Pair with a sweet potato or whipped potatoes
Place over zoodles
Serve with protein rice* or rice pasta
Cut into small pieces and put inside of a siete almond flour tortilla with greens and tomatoes
Make it a sheet pan meal by surrounding it with asparagus and chopped zucchini.
Add protein rice* if a starch is desired
*Protein Rice: 1 cup jasmine rice 1 ½ c. chicken bone broth. Bring rice and chicken broth to a boil. Reduce heat to low, cover and simmer for 15-20 minutes.  Remove from heat, keep covered and let stand for 10 minutes.  luff with a fork and serve.
Juicy Brined Oven Roasted Turkey Breast
Prep time: 20 minutes
Cook time: 60-90 minutes
Ingredients:
3.5-5 lb Bone-in Turkey Breast
1 cup dill pickle juice
½ cup coarse salt, like Redmonds Real salt
1 tbsp onion powder
½ tsp garlic powder
1 tbsp black peppercorns
2 tbsp dried chives
2 cups chicken bone broth
2 tbsp ghee or olive oil
Directions:
In a 2 gallon ziploc bag, combine all ingredients except for bone broth & ghee/olive oil. Add just enough clean, filtered water to cover the turkey breast. Close the ziploc bag and place in the refrigerator overnight or for at least 8 hours.
Remove the turkey breast from the brine and pat dry with paper towels. Place in the bottom of a heavy dutch oven and add 2 cups of chicken bone broth.
Rub the turkey breast down with ghee or olive oil. Season with additional salt & pepper as desired.
Bake at 375 degrees for 60-90 minutes uncovered or until the internal temperature is 165 degrees when a thermometer is inserted in the thickest part of the breast. Let rest for at least 10 minutes before slicing and serving. Store in the refrigerator for up to 4 days. Great for quick lunchtime meals!
Meal ideas:
Serve with broccoli & whipped potatoes
Serve with baked sweet potato and green beans
Serve in lettuce cups with peanut sauce
Serve with protein rice & asparagus
Turn into "turkey salad"
Bacon Burgers
Prep time: 20 minutes
Cook time: 8 minutes
Ingredients:
1 lb grass-fed ground beef sirloin or ground bison
4 pieces of raw, thick cut bacon, chopped into pieces
1 egg yolk
½ tsp garlic powder
1 tsp onion powder
Salt
Pepper
Directions
Combine all ingredients in a bowl until just combined. Do not overmix the meat or it will lend to tough burgers. Form into 4 equal patties. Grill or pan fry until medium.  Remove from heat and serve immediately or store in the refrigerator for up to 4 days.
Meal ideas:
Perfect for burger in a bowl for a quick, weeknight meal (serve with chopped lettuce, tomato, red onion, dill pickles, cheese if desired, and ketchup and mustard on top)
Breakfast burger with an egg on top and sauteed asparagus
Crumble over a baked potato and top with sour cream and chives
Great with grilled romaine, caesar dressing and sliced avocados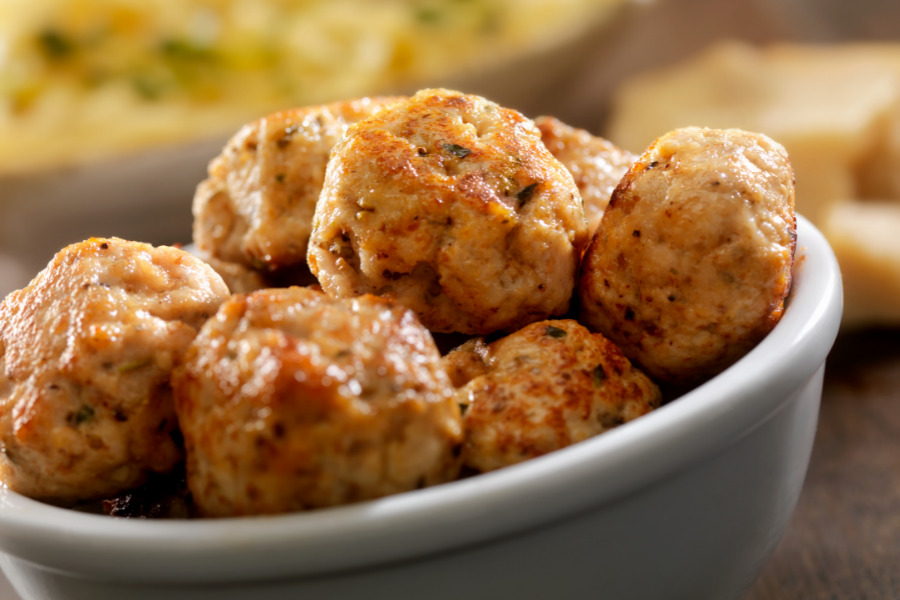 Turkey meatballs
Prep time: 5 minutes
Cook time: 15 minutes
Ingredients:
1 lb ground turkey
¼ cup almond meal
1 egg
1 splash of Worcestershire sauce
Garlic powder, salt, and pepper
Directions:
Preheat the oven to 375 and line a baking sheet with parchment paper for easy clean-up.
In a large bowl, combine all of the ingredients – I like to use generous amounts of garlic power, salt, and pepper – using your hands until well-mixed.
Use a melon ball scooper and your hands to form 12-15 balls and place onto the baking sheet.
Bake for about 15 minutes, until browned and internal temperature reaches 165 degrees. Let cool completely and the store in a sealed container in the fridge for up to 5 days, or in the freezer in a Ziplock bag (<— this is my method).
Meal ideas:
Turkey sub with turkey meatballs, Rao's marinara, and basil in your favorite wrap or on toast
Thai curry meatballs! Saute some veggies on the stovetop (like bell pepper, onion, zucchini, and garlic) and then stir in 1 tablespoon red curry paste and a can of coconut milk. Add the meatballs, heat through, and serve on zoodles, or your favorite rice.
Break up into crumbles and add to an egg scramble
Break up into crumbles and make tacos with 2 of your favorite tortillas, cabbage slaw, salsa, and avocado
So tell me friends: What is your favorite protein option to prep in advance? Turkey meatballs and eggs in the instant pot are staples around here.
Also worth mentioning again that I've been buying all of our meat and fish from Butcher Box lately and am blown.away. They have so many organic and wild options, they're a B Corp, and everything has been super fresh and delicious. You can use my referral link for ground beef for life and $30 off.
Hope you have a wonderful day and I'll see ya soon!
xoxo
Gina
More:
10 high-protein snacks without protein powder
5 easy meal prep salad recipes
My personal meal prep blueprint
How to cook salmon 10 different ways
The post 5 High Protein Meal Prep Recipes appeared first on The Fitnessista.
Continue Reading…
Author Fitnessista | citywomen.co
Selected by CWC