June 16, 2020 at 06:11PM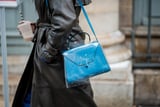 Vegan leather (also called faux leather) has, admittedly, not always had the best of reputations among fashion enthusiasts. But as the appetite for more sustainable practices continues to grow, more and more brands and designers have once again started working with the material. Perhaps once regarded as glorified plastic – and a cheap way to re-create some of our favorite '90s looks – faux leather has been transformed over the past few years.
Now one of the most talked about fabrics within the sustainability sphere, vegan leather is used by some of the most reputable sustainable brands and boutiques out there, and it's easy to see why. A far cry from what it used to be, faux leather looks and feels nearly identical to the real thing, so it's become pretty difficult to tell the difference between the two materials. And with the leather look being one of the biggest trends of 2020, the industry's newfound love for the vegan option couldn't have come at a better time.
Ahead, keep reading to learn more about what vegan leather is, where it comes from, and understand the differences between the material and its real counterpart. And if you're looking to add more vegan leather pieces to your wardrobe, we've also included some of our favorite styles for you to shop, too.
More Celeb News
Author Morgane Le Caer | Popsugar
Selected by CWC