January 19, 2021 at 08:19PM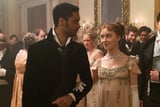 There's been much talk about the lavish gowns and exquisite hairstyles on Bridgerton, but one accessory in particular hasn't received quite as much love and attention as it deserves, and that's Daphne Bridgerton's wedding ring. In the fifth episode of the irresistible Netflix series, Simon Basset finally marries Daphne after a hot and cold courtship that involves plenty of ballroom dances, park promenades, and quite the steamy garden kiss. During their intimate wedding ceremony – which takes place in a church and is only attended by the Bridgerton clan, Lady Danbury, and Will and Alice Mondrich – the Duke of Hastings carefully removes his bride's elbow-length glove and slips on her wedding ring.
It's not until the seventh episode, however, that we get an up-close glimpse at the piece of jewelry while the new duchess angrily mashes on piano keys, and it's certainly hard to ignore its beauty. Below is a handy-dandy screenshot so you can join us in marveling at its beauty.
Image Source: Netflix
The ring isn't gaudy or pretentious – it's delicate and detailed, which is quite fitting for the Regency era in which the series is set. It most prominently features four pearls of equal size, arranged in a cross-like formation on a yellow gold band. The lustrous gemstones are flanked by two larger and four smaller reddish-pink stones that appear to be either rubies or garnets. (Perhaps the color is an ode to how Simon and Daphne "burn" for one another?) And lastly, a small diamond is nestled in the very center, giving the ring a subtly floral air.
It's worth noting that this ring is quite the stark deviation from the ring mentioned in Julia Quinn's The Duke and I, which is the basis for Bridgerton's first season. In the book, Daphne's wedding ring from Simon is described as a "large, marquis-cut emerald" surrounded by two diamonds with a white gold band. Hmm, that sounds pretty darn different than what we see on the Netflix series, but we're not at all opposed to the switch-up.
Seeing as we felt especially inspired by Daphne's gorgeous ring from Simon, we couldn't help but scour Etsy – a go-to source for unique engagement rings – for similarly dainty styles featuring pearls. Scope out our favorite picks ahead to get in touch with your inner duchess.
More Celeb News
Author Victoria Messina | Popsugar
Selected by CWC