Barbie, the iconic fashion doll that has sparked the imaginations of children worldwide for over six decades, is not just a toy – she is a cultural phenomenon. One of the most enduring aspects of the Barbie brand is its line of animated movies, which have been bringing joy to children since their debut in 2001. Let's take a closer look at the enchanting universe of Barbie doll movies.
From her first animated feature, "Barbie in the Nutcracker," Barbie has been more than just a doll. She has become a protagonist, leading children through different adventures, times, and realms. By stepping into various roles – from a princess and a fairy to a mermaid and a superhero, Barbie teaches young viewers the importance of courage, kindness, and believing in oneself.
👱‍♂️ Ken, Barbie's long-term beau, first made his debut in 1961, two years after Barbie. Ken, with his classic charm and striking 👔 outfits, quickly won hearts and became an essential part of the Barbie universe.
Sporting a variety of looks over the years, from the original crew-cut Ken to the beach-loving 🏖️ Surfer Ken, and even the princely 🤴 Royal Ken, he's always been there, ready to accompany Barbie on her numerous adventures.
Often seen driving his sleek, red 🚗 convertible, Ken's image is as much about style as it is about substance. He's not just Barbie's companion but also a role model, teaching kids about friendship, respect, and equality.
Whether he's attending a fancy 🎩 gala with Barbie, going on a 🏄‍♂️ surfing adventure, or participating in a 🕺 dance-off, Ken brings a dash of fun, friendship, and fashion wherever he goes. His story teaches us that no matter where we come from, we can choose who we want to be! 🌟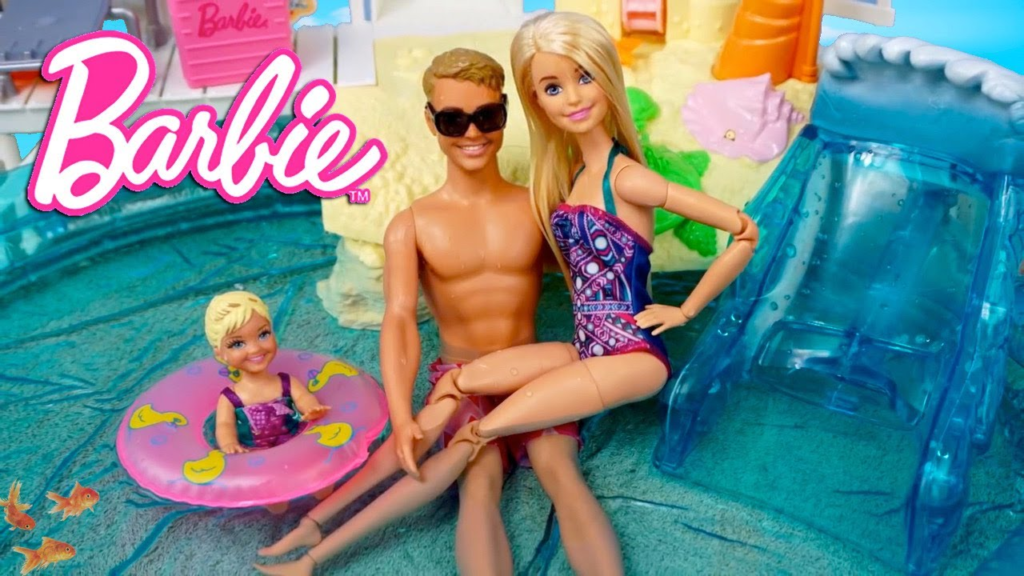 Barbie movies are set in a colourful, vibrant world that is full of magic and music. The animation breathes life into the Barbie universe, making it more immersive and engaging. These movies are not only visually appealing but also have catchy soundtracks that make the experience even more enjoyable.
One of the defining characteristics of Barbie movies is the range of characters. Barbie's friends, family, and even pets all have their unique personalities and stories, providing kids with an array of characters to identify with and learn from.
The narratives in Barbie movies often revolve around themes like friendship, perseverance, and honesty. For instance, in "Barbie: A Fashion Fairytale," Barbie gets fired from her movie, but instead of giving up, she goes to Paris and saves her aunt's failing fashion business. This movie, like many others in the Barbie series, teaches valuable lessons about resilience and the power of creativity.
"Barbie as the Princess and the Pauper," one of the most popular Barbie movies, showcases the theme of identity and self-discovery. The story features Barbie in a dual role, portraying both the princess and the pauper. The switcheroo plotline teaches children about empathy, bravery, and the idea that everyone, no matter their background, has the ability to make a difference.
Another crowd favorite, "Barbie in A Mermaid Tale," is a mix of adventure and fantasy where Barbie, as Merliah, a champion surfer, discovers her true identity as a mermaid princess. The movie encourages viewers to embrace their true selves and emphasizes the power of unity.
While Barbie movies are undeniably entertaining, they are also educational. They introduce children to different cultural narratives and histories. For instance, "Barbie as Rapunzel" introduces viewers to the classic Brothers Grimm fairy tale, while "Barbie in the 12 Dancing Princesses" is a fun twist on a traditional folk tale.
In conclusion, Barbie doll movies have come a long way since their inception. They have grown into an integral part of the Barbie brand, embodying the same values that the dolls have always stood for – imagination, creativity, and the belief that you can be anything. These movies continue to inspire and educate children all over the world, proving that Barbie truly is more than just a doll. The Barbie universe is a beautiful, vibrant world where dreams come true, and every movie is a new adventure waiting to be explored.
So, whether you're a longtime Barbie fan or a newcomer to this magical world, there's always something to enjoy in a Barbie doll movie. Happy viewing!