August 15, 2019 at 02:00PM by CWC
I've long been a believer in strategic swimwear. I love when a triangle top that peeks out during a dance-floor move can be excused as a bathing suit, or a when bandeau bikini that gives new, family-gathering-appropriate life to a v-neck that might have otherwise been cut too low. In my opinion, a swimsuit styled with actual clothing is the definition of summer outfit perfection.
And applying this double-duty move to activewear—aka wearing your bikini top as a sports bra—is not only stylish, but it's actually a fairly logical move. For me, throwing on a supportive bathing suit and heading to a workout about the ease of wear, and also about getting twice the bang for your bathing suit buck… even if swimming isn't even part of the equation that day. Practicing free yoga stretches in my living room to Amazon Prime's finest instructors means that a torso-flattering Boys + Arrows Phil Top ($98) can provide just the right lines and lift without the pressure. And for frisbee tosses on the actual beach, Cover's Swim Sports Bra ($100) is a real winner. This multitasking attitude has been everywhere lately, as brands give bikini/sports bra hybrids new life both in and out of the water.
Take Summersalt, the sustainable swimwear label who launched their activewear line this month with the intention of giving everything from halter bikini tops to color-blocked leggings a double meaning. Pulled on for Pilates, they're breathable and aerodynamic, and a trip to the pool means that the UPF fabric offers sun protection and waterproof coverage. "We encourage women to live life outside of the lounge chair," says co-founder Lori Coulter of the new pieces she and Reshma Chattaram Chamberlin dreamed up together for the likes of swimming, paddle boarding, and surfing. Their launches, like the Mesh Diver Bikini Top ($50) mirror the look of a traditional sports bra, while one pieces like The Causeway ($95) (which even comes in a version for long torsos, finally!) makes for a no-brainer leotard that stands up to the flips and twirls of aerial yoga. Even the long-sleeved The Sun Shield Rash Guard ($80) is as useful in the water as it is layered up during an over-air-conditioned cycling class.
For even more of these either/or options, forward-thinking brands are riding the wave of multitasking activewear. Boys + Arrows, the swim line that sews its pieces locally in So-Cal, pushes the boundaries of traditional suits. The Dizzy Izzy ($18) top—described as "a nod to sports bras"—is designed with motion in mind, and the brand boasts that "pretty much anything active you can think of, Izzy can do it with you." For more relaxed classes where stretching and movement is paramount, their "sporty fit" Dylan Top ($106) has clever corseting straps that can be tightened for additional support. Reimagining their traditional bikinis, SAME Los Angeles launched activewear via their Same Sport offshoot, which features the adorable Ruffle Bra ($95) that acts like fitness-wear—but when paired with black bikini bottoms, easily moonlights as a swim top.
In addition to suits that can function as sports bras, the double-duty factor works the other way around, too. Wear It To Heart brings back the sleek tankini look (… remember the '90s?) with their Avery Tank ($63) which features a built-in bra and moisture-wicking fabric that dries off quickly after a dip. Though it's technically a workout tank, I can personally attest to its swim-friendliness after wearing it for a scuba lesson with Fiji's Jean-Michel Cousteau Diving Center. Grateful for the extra coverage to prevent any subterranean cuts and scrapes, they dried off even faster than the borrowed neoprene gear. Plus, the brand's low-key color options in navy and black helped keep me camouflaged from curious ocean dwellers.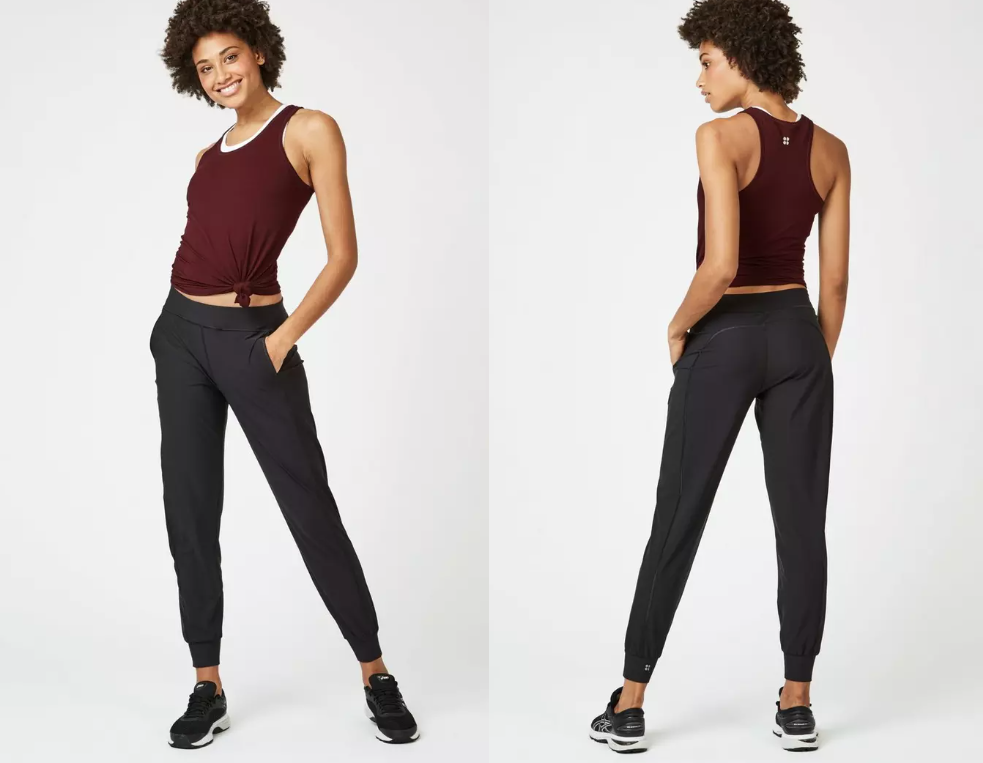 These black swimsuits are like your LBD, but for the beach. And this sports bra with six pockets will change your life. 

Author Arden Fanning Andrews | Well and Good
Selected by CWC