April 22, 2020 at 04:00PM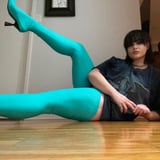 I'm sure Barbie Ferreira's latest Instagram put a smile on everyone's face. I couldn't help but break out into the widest grin when I saw her "Quarantine Givenchy Boot Piece" in all its artistic glory living on my feed this morning. Relatable? The fact that Barbie was wearing an oversize graphic t-shirt with a subtle tie-dye fade to it while cooped up at home. I mean, I'm pretty sure I just wore mine yesterday (or was it the day before?). Not so relatable? The fact that she's lounging around in boots that originally retailed for upwards of $1,500 and saw many red carpets in the highlight of their day.
But alas, Barbie is an actress, and the Euphoria star has certainly mastered her own sense of style with the help of stylist Chris Horan. It's a look that I'd call high-fashion edge meets athleisure, and clearly her stay home aesthetic mirrors that to a T. While I'm definitely not in the market for her sea-green boots at the moment, I'm all about her idea for "lampshading," as we like to call it, aka wearing an oversize top with thigh-high boots – and her lived-in tee fits the bill. I'm sure we all can agree that even though we're sheltering in place, sometimes it can feel nice to get lost in a game of dress up. Scroll down to see how to do it Barbie's way.
Related: These Celebrity #OOTDs Prove That Everyone Has a Different Style at Home